Arrr, get ready to play Shadow Gambit: The Cursed Crew next week Thursday, August 17! ☠️

Find the worldwide release schedule here so that you may know at which time you'll be able to start downloading and playing on PC, Xbox Series and PlayStation 5.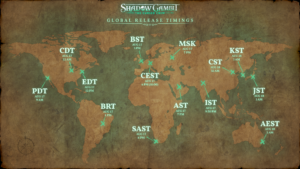 Moreover, in case you missed it, we announced a digital Supporter Edition as well as the prices for the game.

If you are looking for some digital goodies and want to show some extra love to us, the Supporter Edition might just be for you.
Join our Crew!
☠️ Join our Discord if you'd like to chat with us and our growing Mimimi community.
☠️ You can also follow us on Twitter | YouTube | Twitch | Facebook | Instagram |TikTok to stay up to date.
☠️ And we have a Newsletter if you'd like to receive updates directly from us by e-mail.