In the lost Caribbeeeaaan seaaa …. 🎵

We have a release date!

Watch the new trailer and enjoy plenty of new gameplay footage. Get a first look at the game's main villain and some new Lost Caribbean islands while listening to a catchy pirate shanty, courtesy of our composer Filippo Beck Peccoz.
But as much as cursed pirates love to sing while sailing to their next adventure, the real treat in this trailer is obviously the RELEASE DATE that we are finally ready to share with you.
We're thrilled to announce that Shadow Gambit: The Cursed Crew is releasing on AUGUST 17, 2023 for PC (Steam, Epic Games Store), PlayStation 5 and Xbox Series.
Save the date and get ready to assemble your cursed pirate crew!
Play the Demo at Steam Next Fest
But that's not the only goodie we have for you. During Steam Next Fest: June 2023 Edition you will get the chance to play a part of Shadow Gambit: The Cursed Crew yourself for the first time ever.
Make sure to play the DEMO from June 19 to 26 and wishlist Shadow Gambit: The Cursed Crew, if you want to support us.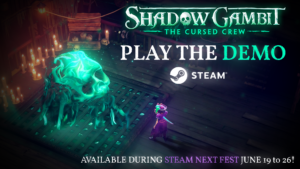 What to expect from the Demo
You will be able to experience 2-4 hours of the game, depending on your experience in the genre and playstyle.
This includes two islands, several missions and your ghost ship, the Red Marley, which acts as a hub between missions
Make sure to share your first impressions and feedback on all community channels and social media that you're active on with the hashtag #playshadowgambit.
Enjoy your first trip to the Lost Caribbean!
Learn more about the Lost Caribbean
If you can't get enough from the Lost Caribbean, make sure to shorten the wait for yourself with our dev diary deep dives. Every blog post covers a different topic and gives interesting insights into the setting, the art of Shadow Gambit and more.
Join the Crew
☠️ Join our Discord if you'd like to chat with us and our growing Mimimi community.
☠️ You can also follow us on Twitter | YouTube | Twitch | Facebook | Instagram |TikTok to stay up to date.
☠️ And we have a Newsletter if you'd like to receive updates directly from us by e-mail.
See you soon on the high seas!
Elena
Communications Manager at Mimimi Games